Electroetcher Information Page
Introduction
This page provides some information on a home made etcher for etching knife blades. I built one of these etchers by following the instructions on Chris Crawford's web site. Chris provides very detailed instructions on assembling the etcher following a design that was originally created by knifemaker Bob Warner.
I used a couple of different components than what are listed on Chris's site while building my electro-ecther so I decided to include a list of the items and their prices. Additionally, I had a hard time working from Chris's step-by-step wiring instructions and really needed a wiring diagram to help me visualize and understand the electronics. I produced a drawing of this wiring schematic and have included a link to the document at the bottom of this page. Providing this wiring schematic to whoever may need it is the primary purpose of this page. I hope it helps you.
---
Parts List
Image
Description
Vendor
Part Number
Quantity
Cost Each
BUD Industries Style A Utilibox
Newark Electronics
99B1212
1
$18.83
KEYSTONE Feet (Bumpers)
Newark Electronics
97H7025
4
$0.63
DELTRON EMCON Test Connector
Newark Electronics
45M6829
2
$0.70
VOLEX Power Supply SJ Cord
Newark Electronics
96K5633
1
$8.93
1.0-Amp 250V 1¼ x ¼" Slow Blow Fuse (4-Pack)
Radio Shack
270-1021
1
$2.99
Screw-Cap Panel-Mount Fuse Holder
Radio Shack
270-364
1
$1.99
Toggle Switch with On/Off Label Plate
Radio Shack
275-602
1
$2.99
DPDT 10-Amp Toggle Switch with Center Off Position
Radio Shack
275-1533
1
$3.69
25.2V CT 2.0A Heavy-Duty Chassis-Mount Transformer with Lead
Radio Shack
273-1512
1
$10.49
8A, 400V Full-Wave Bridge Rectifier
Radio Shack
276-1181
1
$2.59
Solderless Banana plugs
Radio Shack
274-721
1
$2.99
Banana Jacks (2-Pack)
Radio Shack
274-725
1
$2.99
120VAC Neon Lamp Assembly (2-Pack)
Radio Shack
272-712
1
$3.49
DEP (Deep Etch) Hand Pad
Lectroetch Marking Equipment
DEP 16
1
$31.00
LNC-8 Electrolyte, quarts
Lectroetch Marking Equipment
6068Q
1
$9.00
Cleaner, #1 All-Purpose (APC), quarts
Lectroetch Marking Equipment
6062Q
1
$8.00

Long Life Stencil

200-3L 2-1/2"x7"

3 sheets

Lectroetch Marking Equipment
5054
1
$12.50

Felt Wick,

Square Yard

Lectroetch Marking Equipment
70
1
$7.50
---
Photos
A few photos of the etching process are included below.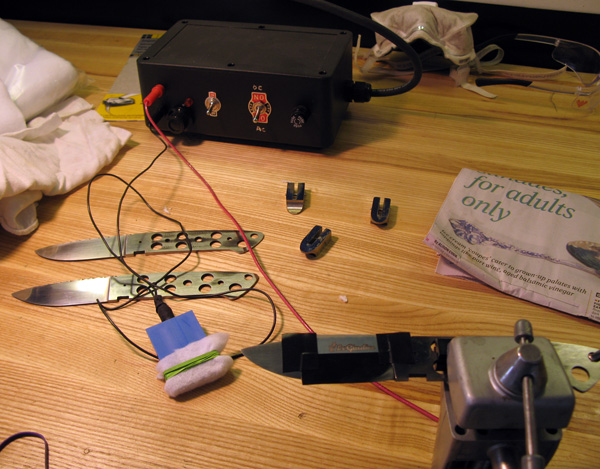 This is my home built etcher and and blade ready to be etched.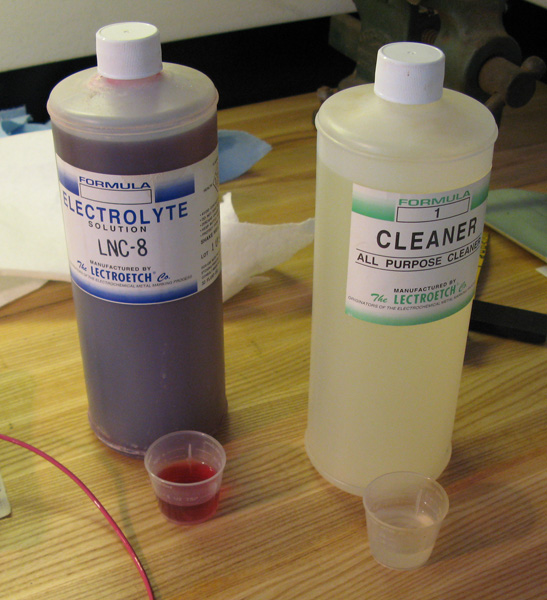 Etching Chemicals: Electrolyte & Electrolyte Neutralizer
Knife blade with stencil ready for etching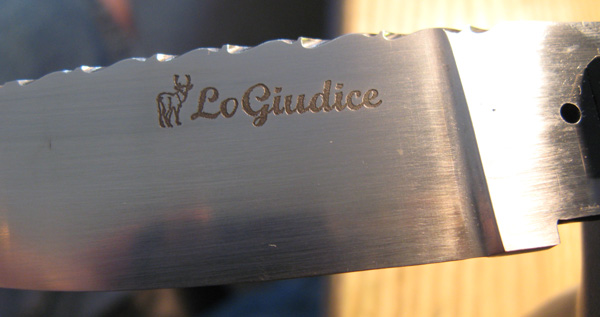 Finished Etched Blade
---
Electrical Schematic
A PDF file of the electrical schematic is located HERE or select the image below to open file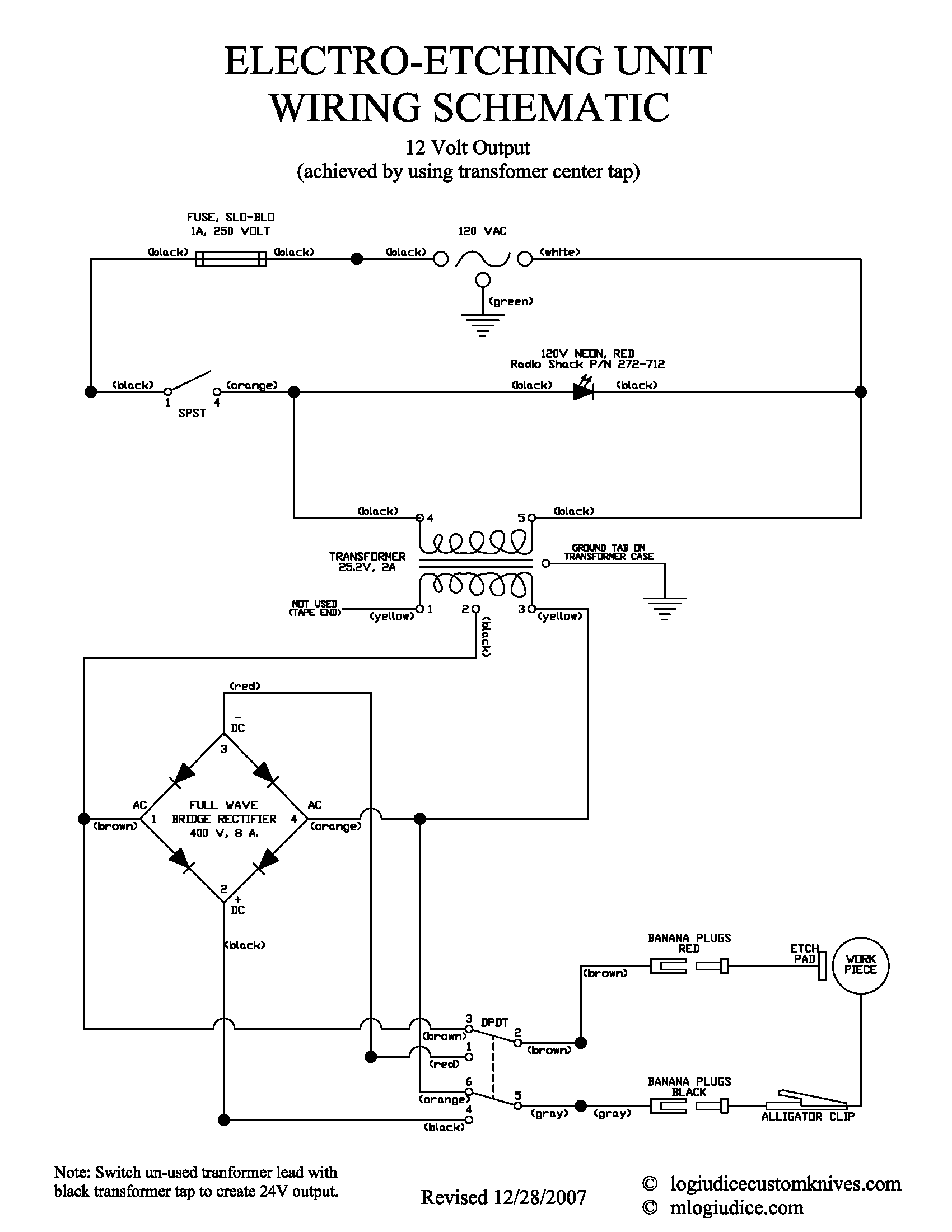 This page was last modified on Friday, 22-Sep-2017 00:11:00 CDT
Send your comments and questions to us:
All Content © 2003 - 2017 LoGiudice Custom Knives. All rights reserved.